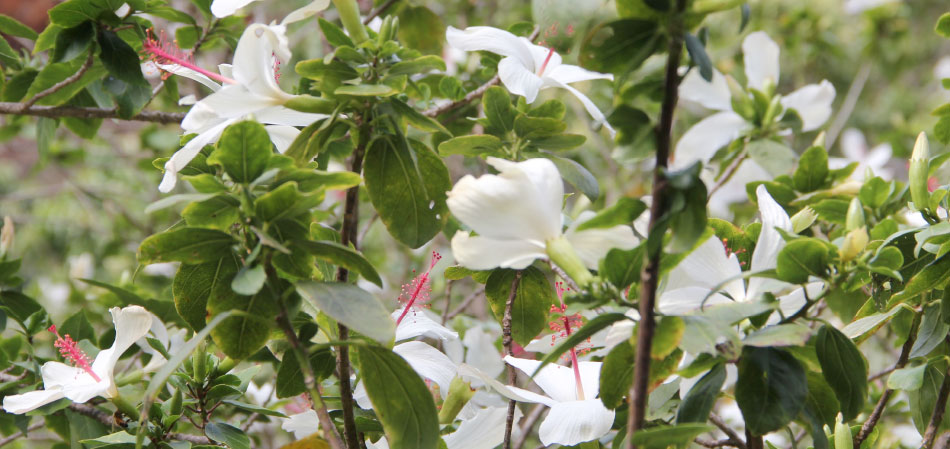 Hibiscus waimeae is a small, gray-barked tree up to 30 feet tall. The upper surface of the leaves is light green while the lower surface is covered with velvety hairs which makes it appear grayish. The round or oval leaves are 2 to 7 inches long and 1 to 5 inches wide. The single flowers last only one day. They are white when they open in the morning and they fade to pink in the afternoon. The flowers occur towards the ends of the branches and have a strong, sweet fragrance. The staminal column is pink to crimson.
There are two recognized subspecies of Hibiscus waimeae. Subspecies hannerae has larger leaves and smaller flowers, about 2 inches in diameter. This subspecies is rare and occurs only in Kaua'i's northwestern valleys of Hanakapi'ai, Limahuli, and Kalihi Wai. The subspecies waimeae has larger flowers and is found from Waimea Canyon to the western and southwestern ocean-facing valleys of Kaua'i at elevations of 2,000 to 3,000 feet.
Hibiscus waimeae is an endemic Hawaiian plant with one rare subspecies. It grows in the moist forests of Kaua'i from 800 to 3,900 feet. Hibiscus waimeae is found from upper Waimea canyon to the western and northern coasts of that island.
Go Back