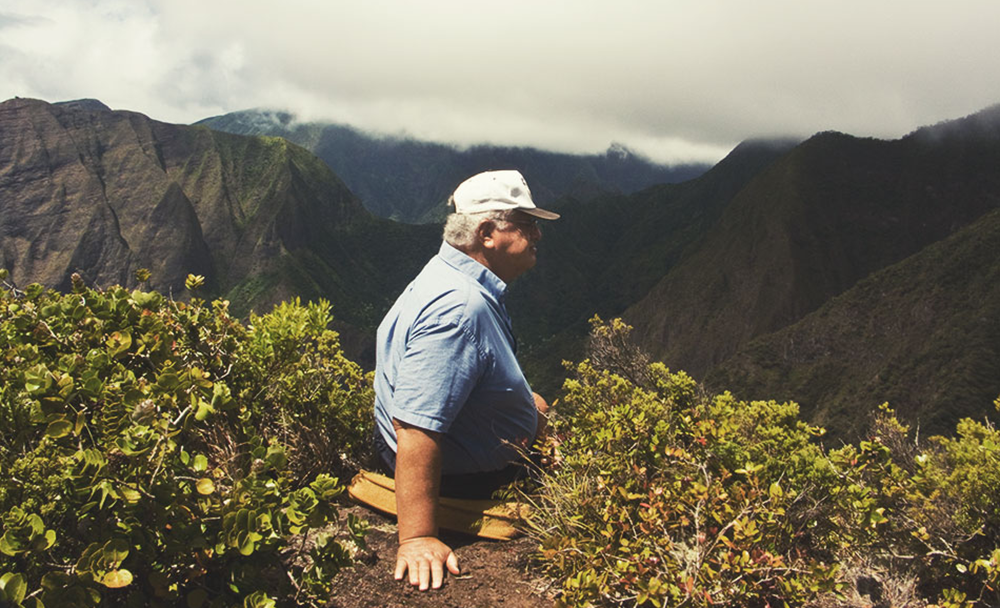 Maui Cultural Lands, Inc. (MCL) is a grassroots land trust organization. Our mission is to stabilize, protect and restore Hawaiian cultural resources—and the success of our efforts depends upon volunteers like you!
Edwin "Ed" Robert Naleilehua Lindsey Jr. and his wife Puanani established Maui Cultural Lands as a nonprofit organization in February 2002. A Native Hawaiian and lifelong school teacher, Uncle Ed had the goal of bringing in the people of Maui—both residents and visitors—to help with the restoration of Honokowai Valley.
This deep sense of kuleana, of responsibility for the land and its gifts, was inherent in Ed. His parents Ned and Pua Lindsey were visionaries who worked throughout their lives to preserve Hawaiian culture and lands, often reminding young Ed to pay attention to the "sticks and stones," native plants and pohaku, which the ancient Hawaiians used to build their self-sufficient society.
Since Ed's passing in 2009, Puanani and Ed's eldest son, Edwin "Ekolu" Lindsey III, carry on the work of Ed's legacy. As Uncle Ed often remarked, it's enough work for five lifetimes! But it's also work that gives back in quiet and long-lasting ways.
In this verdant archeological site, you may feel the presence of those who were here before us, working alongside you, weeding, digging, planting. As you pull the invasive vines away from the fronds of a tiny koa seedling, you may learn how the ancient Hawaiians used this all-important tree to build their mighty canoes. As you feel the breeze cool your hot face, you may sense the powerful spirituality, the mana, that breathes in the very air of the valley.
In this way, Honokowai Valley serves as an inspiring example of sustainability and cultural preservation, a living classroom through the generations—just as Uncle Ed envisioned.
We welcome you to join us on our journey!