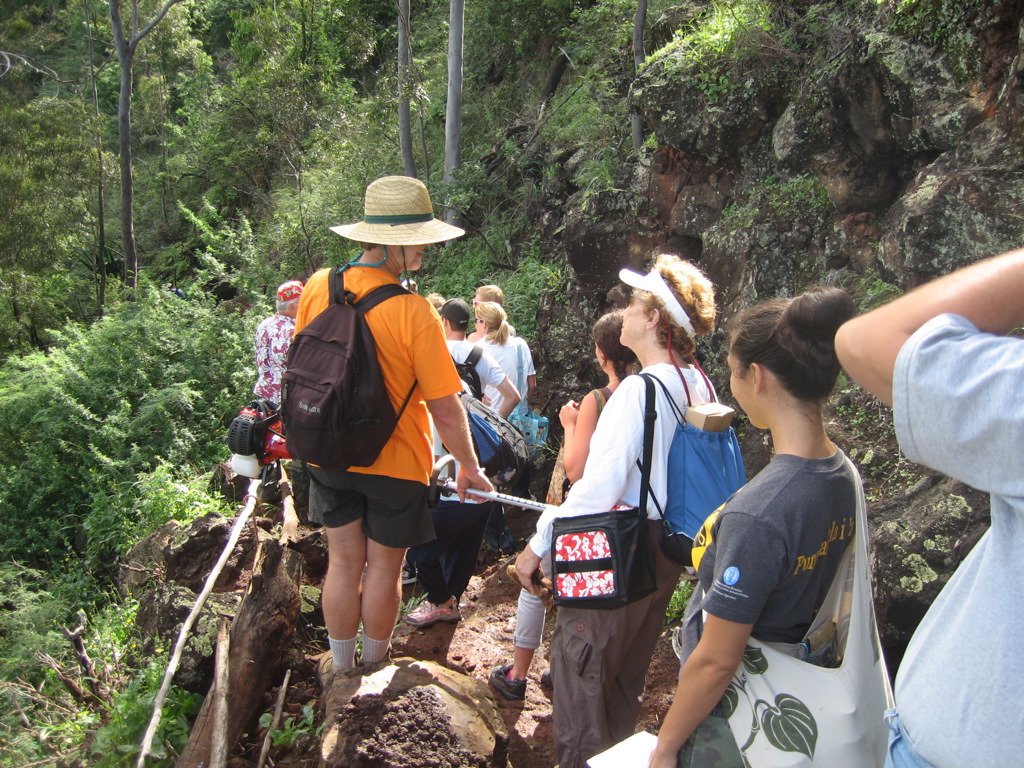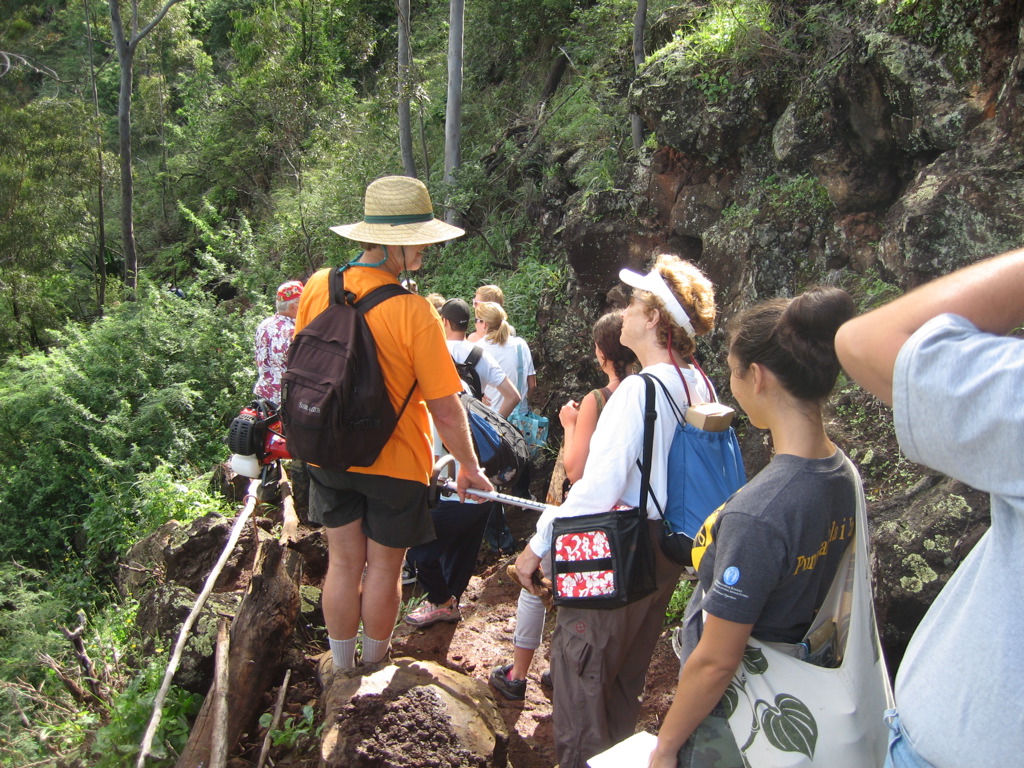 Outrigger Hawaii, February 2009
By Kim Steutermann Rogers
From the Ka'anapali Coastline, Honokowai Valley is nothing more than a slim pleat in the West Maui Mountains. A simple stripe of green. Up close, it is overrun with invasives, like the haole koa (lead), Chinaberry, and Java plum trees, that grow in mono-species thickets. One of the few Hawaii natives left here, kukui (candlenut) grow straight and narrow, taller than the mature 35-foot height my book on trees suggests for the species. These resilient Hawaiian warriors remind me of gawky teenage boys, the ones who play basketball, all legs and no meat on their bones.
To get here, you have to drive to West Maui beyond the pineapple and sugar cane fields, beyond the ABC stores and vacation resorts along the coastline. You follow a dusty cane haul road up. You bounce along coffee fields and through invasive forests and padlocked gates.
Today, the land is owned by AmFac and cared for by Ed Lindsey and his stalwart team of volunteers who form a community project called Maui Cultural Lands. The team embraces a big idea: To restore Honokowai Valley to a state of balance. To remove the invasives so the natives can grow. To clear the ancient rock walls that once made up house sites. To repair the taro patches. To return the place to such a state that the estimated 600 or so Hawaiian families who once lived between these slices of rock cliff walls might actually recognize the place. Cool.
Voluntourism on the Rise
My husband and I are on Maui celebrating our 20th wedding anniversary. We've planned the usual romantic activities for such an event—a meandering drive on the road to Hana and dinner for two at a romantic restaurant, Pacific'O, practically right on the beach in Lahaina. But we've also decided to try something different on this vacation.
According to the World Heritage Alliance, "voluntourism" is one of the fastest growing segments in the travel industry. Volunteering on vacation is a way to connect with, learn about and give back to a place for which you are fond. It allows you to interact with the local community at a deeper level and even see places you might not ordinarily.
On Maui, the Pacific Whale Foundation started a "Volunteering on Vacation" program in 2007. It offers a variety of weekly projects, requiring from two to eight hours of time, and includes such activities as pulling weeds at the summit of Haleakala National Park, restoring sand dunes, a self-led beach clean up and restoring Honokowai Valley. In 2008, over 800 volunteers from around the world participated, contributing over 2,500 hours to protect and preserve Maui's environment.
Not Your Usual Wedding Anniversary
On this particular Saturday, close to 30 of us volunteers piled in the back of 4WD pickup trucks, the act itself reminding me of day laborers hired to work the orchards and fields of southern California.
As we maneuvered our way up the mountain, two women named Jill from Trilogy Boats—we called them "The Jills"—advised that the safest way to stand on a moving truck bed was just like being on the boat. "Bend your knees; use your sea legs," they said.
The rest of day's group consisted of Ed, his wife Puanani, his son Joe and son-in-law Johnny, a representative from the local Rotary Club, three regulars—David, Andy and Rolly, a group of almost 20 teenagers and young adults from Old Lahaina Luau, and my husband and me.
It was a ragtag collection of ages, sexes, cultures and vocations coming together with a common purpose: to serve. It reminds me of something President Barack Obama said in his inaugural address about the "spirit of service" and "a willingness to serve something larger than ourselves."
Maui Companies Also Support Community Service
The Jills said the requirements for raises and promotions at their company included community service work. That's taking President Obama's social responsibility to heart at a business level. That also explained the attendance of the Old Lahaina Luau employees. It was required.
Like young people anywhere, this group was loud and boisterous in their circle of friends, and when I first saw them, I wondered how much they would really accomplish. But once Ed doled out the assignments, the kids willingly wielded chains saws, wrenched tree stumps from the ground and hauled logs and branches to the wood chipper. And, when it came time for lunch, they heated chafing dishes of leftover luau food with Steno burners, opened cans of Hawaiian Sun from oversized coolers and shared it all with everyone in attendance. What's more, their laughter trailed down the valley on the wind.
Volunteering on Vacation Is Good for You
As I hauled lengths of sawed logs across a dry streambed to the wood chipper on the other side, I couldn't help but think of my own family half an ocean and half a continent away. I come from Midwestern farm stock. My ancestors cleared woods and worked land just as I did here. In a way, the work I did at Honokowai Valley honored my own ancestors, and that made me feel good. My body also felt good moving, instead of stuck behind a computer all day.
With lives that are filled to the brim with deadlines, emails, text messages, ringing cell phones, Facebook and Twitter updates, sometimes the only time we can carve out to serve our community is to volunteer on vacation. I think that explains the success of organizations such as Habitat for Humanity, which was recently on Kauai with dozen volunteers (out of 50 who applied) to build affordable homes for those in need. That also explains the success of the Pacific Whale Foundation's "Volunteering on Vacation" program.
A Chicken Skin Moment
My husband and I still talk about our day in Honokowai Valley, three months later. We didn't work side by side, but we both recount one moment that stood out for us. It happened before the first weed was pulled.
When we first arrived at our work site in the valley, Ed gathered us all in a circle in the shadow of a towering stony cliff that framed one side of the valley. We joined hands. Ed welcomed us. We went around the ring introducing ourselves and sharing where we were from. Then, Ed said, "These walls bear witness to all that has happened," as he turned to one of the young men from Old Lahaina Luau and asked him to give the opening chant.
You could see the boy's surprise on his face. You could read his thoughts. You knew he wanted to say no. But he didn't. He cleared his throat, stepped back from the circle and sipped some water. Facing the wall, he began to chant, his Hawaiian words growing in resonance as he gained confidence and momentum. His words bounced off the walls that embraced us, and they echoed down the valley in stereo surround sound.
Ah, yes, what stories these walls do tell.
Original article URL: www.outriggerhawaii.com
Go Back